Biography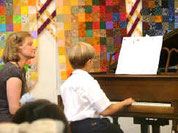 I didn't always love piano...I remember sitting on the piano bench in our dining room as a young girl, whining, while my mother called out "Tennnnnnn Mooooooore Minutes!!" from the kitchen.
As a young teen I fell in love with piano, and soon after I began composing music.
In 1997 I graduated summa cum laude from The Ohio State University where I studied piano, music theory, and composition. I was granted The Ohio State University Excellence in the Arts Award. 
While at OSU I was research asistant to Ellie Hisama, Ph.D. I assisted her in her work on Gendering Musical Modernism, published by Cambridge Universty Press.
I began teaching in 1996, and continued when I moved to Northern Virginia to work for the National Association of Music Education. While at NAofME I was contributing editor to Exploring Careers in Music Education, Spotlight on Early Childhood Education, and the journals Teaching Music and Music Educator's Journal. In 2002 I left MENC to teach full time. 
I moved to Rochester in 2007 to be near family, and I've been happily teaching here ever since!